Brass Sheets, Plates & Coils
Brass Sheets, Plates & Coils Suppliers & Exporters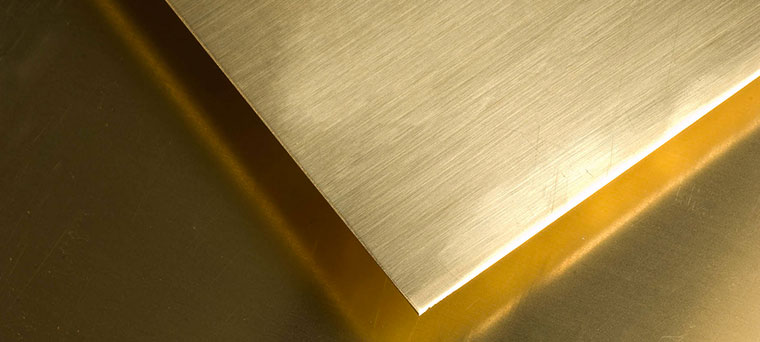 Most Trusted Supplier of Brass Sheets & Plates, Brass Sheets, Brass Plates, Brass Plates, Cold Rolled Cupronickel Plates, Brass Hot Rolled Sheets Manufacturer, Brass Shim Sheets, Brass Plates & Sheets Exporter
Brass Polished Plates, Brass Plain Sheets, Brass Perforated Sheets, Brass HR Plates, and Brass Galvanized Plates, Brass Galvanized Sheets, Brass Chequered Plates, Brass Sheets & Plates Stockist.
Deepak Steel India is preferred manufacturer, supplier and exporter of Brass Sheets & Plates in different forms, shapes, sizes, dimensions and other specifications. Using high quality raw materials and advanced manufacturing machinery, we produce these Brass Sheets & Plates and deliver them to domestic as well as international markets.
Brass Sheets & Plates are made by combination of copper and zinc with small amounts of other metal alloy elements. These Alloy Sheets & Plates exhibit excellent resistance to corrosion and good tensile strength over high pressure and temperature. Various types of Brass Sheets & Plates are manufactured using diverse material grades like Brass C230, Brass C260, and Brass C330, etc.
Our state of art warehouse has comprehensive range of sheets & plates including Brass Hot Rolled Sheets & Plates, Brass Cold Rolled Sheets & Plates, Brass Shim Sheets, Brass Polished Plates and more. These sheets & plates are extensively used in several industries notably marine applications, heat exchangers, processing industries, chemical, oil & gas refineries and more.
If you are looking to buy these Brass Sheets & Plates then kindly contact us today and get free estimations.
Latest Price of Brass C260 Sheets & Plates, Brass C330 Sheets & Plates, Brass C230 Plates, Brass Sheets Dealers, Brass C330/C260 Sheets & Plates, and Brass Plates & Sheets Price in India.
Specifications for Brass Sheets & Plates
---
| | |
| --- | --- |
| Specifications | ASTM / ASME SB62 |
| Size | 1000 mm x 2000 mm, 1220 mm x 2440 mm, 1500 mm x 3000 mm, 2000 mm x 2000 mm, 2000 mm x 4000 mm |
| Thickness | 0.1mm to 12 mm Thk |
| Form | Coils, Foils, Rolls, Plain Sheet, Shim Sheet, Strip, Flats, Blank (Circle), Ring (Flange) |
| Finish | Hot rolled plate (HR), Cold rolled sheet (CR), 2B, 2D, BA NO(8), SATIN (Met with Plastic Coated) |
| Hardness | Soft, Hard, Half Hard, Quarter Hard, Spring Hard etc. |
Types of Brass Sheets & Plates
---
Brass Shim Sheet
Polished Brass Plates
Carpenter Brass Hot Rolled Plates
Brass Cold Rolled Plates
ASTM / ASME SB62 Brass Shim Sheet
ASTM / ASME SB62 Brass Polished Plates
ASME SB62 Brass Hot Rolled Plates
ASTM / ASME SB62 Brass Cold Rolled Plates
Export Destination of Brass Sheets & Plates
---
Exporting Brass Sheets & Plates to Singapore, Malaysia, Hongkong, Thailand, Indonesia, Taiwan. Other countires includesAfghanistan, Albania, Andorra, Austria, Bahrain, Bangladesh, Bhutan, Brunei, Belarus, Belgium, Bulgaria, Cambodia, China, Cyprus, Croatia, Czech Republic, Denmark, Estonia, Egypt, Finland, France, Germany, Greece, Georgia, Hungary, Iceland, Ireland, Italy,Iran, Iraq, Israel, Japan, Jordan, Kazakhstan, Kuwait, Kyrgyzstan, Lebanon, Latvia, Latin America, Liechtenstein, Lithuania, Luxembourg, Malta, Moldova, Monaco, Maldives, Mongolia, Myanmar (Burma), Nepal, North Korea, Netherlands, Norway, Oman, Poland, Portugal, Pakistan, Palestine, Philippines, Qatar, Russia, Romania, Russia, San Marino, Serbia and Montenegro, Slovakia, Slovenia, Spain, Sweden, Switzerland, Saudi Arabia,South Korea, South Africa, Sri Lanka, Syria,Tanzania, Tajikistan, Thailand, Turkey, Turkmenistan, Ukraine, United Kingdom, United Arab Emirates (UAE), Uzbekistan, Vietnam, Yemen.
Supplying Brass Sheets & Plates to Following Domestic Cities
---
Mumbai, Delhi, Kolkata, Chennai, Bengaluru, Hyderabad, Ahmadabad, Pune, Surat, Jaipur, Kanpur, Lucknow, Nagpur, Ghaziabad, Indore, Coimbatore, Kochi, Patna, Kozhikode, Bhopal, Thrissur, Vadodara, Agra, Malappuram, Thiruvananthapuram, Kannur, Ludhiana, Nashik, Vijayawada, Madurai, Varanasi, Meerut, Faridabad, Rajkot, Jamshedpur, Srinagar, Jabalpur, Asansol, Vasai Virar City, Allahabad, Dhanbad, Aurangabad, Amritsar, Jodhpur, Ranchi, Raipur, Kollam, Gwalior, Durg-Bhilainagar, Chandigarh, Tiruchirappalli, Kota, etc.
Industries where we supply Brass Sheets & Plates
---
Chemicals, Petrochemicals, Oil & Natural Gas Organization, Fats, Fertilizers, Sugar Mills & Distilleries, Cement Industries, Ship Builders, Paper Industries, Pumps, Automation, Paints, Steel Industries, etc.