Mild Steel Flanges Suppliers & Exporters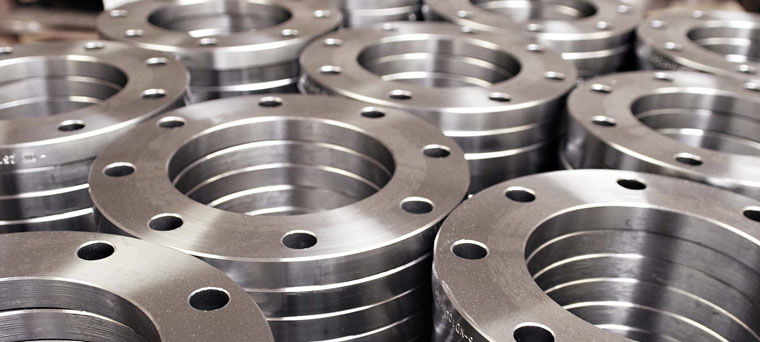 ASME B16.47 Mild Steel Flanges Exporter, ANSI B16.5 MS Pipe Flanges, Mild SS Blind Flanges, MS Pipe Flanges, Mild Steel Slip On Flanges Stockist, Mild Steel Pipe Weld Neck Flanges, ASME B16.5 Mild Steel BLRF Flanges Manufacturer
Mild Steel Forged Flanges, Mild Steel Socket Weld Flanges, ASME SA182 Mild Steel Lap Joint Flanges Supplier, MS Lap Joint Flanges, ASTM A182 MS Threaded Flanges, Mild Steel Orifice Flanges, MS Ring Joint Flanges, Mild Steel RTJ Flange, Mild Steel Spacer Flange, MS Lap Joint Flanges
We are Deepak Steel India a leading Mild Steel Flanges Manufacturer, supplier, and exporter. These pipe flanges are manufactured in different forms, shapes, sizes, dimensions and other specifications. In order to meet customer's expectations, we use high-grade materials and advanced manufacturing techniques to produce these Mild Steel Pipe Flanges.
Mild Steel is a low carbon steel alloy that offers good welding and forming characteristics. With these properties, we easily manufacture the various types of Mild Steel Flanges including Mild Steel Plates Flanges, Mild Steel Lap Joint Flanges, Mild Steel Orifice Flanges, Mild Steel RTJ Flanges, Mild Steel Spacer Flanges, Mild Steel Slip On Flanges and more.
Similarly, Mild Steel Pipe Flanges offering a good balance of toughness, strength, and ductility. They can be used in diverse types of applications like marine applications, paper & pulp production, food processing and chemical processing industries, etc. We are experts in designed and manufacture these Steel Pipe Flanges in standard as well as customized dimensions.
If you are looking to buy Mild Steel Flanges, then please contact us today and get a free estimation.
Mild Steel Plate Flanges, Mild Steel WNRF Flanges Manufacturer, Mild Steel Flanges, Mild Steel Flanges Stockist, MS Slip-on Flanges, Mild Steel Flanges Exporter, Mild Steel Flanges Supplier
Specifications for Mild Steel Flanges
---
| | |
| --- | --- |
| Material Standard | ASTM A182, ANSI B16.5, ASTM A105, ASTM A351 |
| Surface Finishing | Polished, Galvanised |
| Surface Finish | Painted, Galvanised, Powder Coated |
| Material | Mild steel |
| Thickness | 10 mm- 150mm |
| Size | 1/4 inch – 48 inches |
| Application | Structure Pipe, Hydraulic Pipe, Chemical Fertilizer Pipe |
Types of Mild Steel Flanges
---
Mild Steel Loose Flanges
Mild Steel Orifice Flanges
Mild Steel Plate Flanges
Mild Steel Reducing Flanges
Mild Steel Slip on Flanges
Mild Steel Threaded Flanges
Mild Steel Spectacle Flanges
Mild Steel Blind Flanges
Export Destination of Mild Steel Flanges
---
Exporting Mild Steel Flanges to over 60 countries including Afghanistan, Albania, Andorra, Angloa, Austria, Australia, Bahrain, Bangladesh, Bhutan, Brazil, Brunei, Belarus, Belgium, Bulgaria, Cambodia, China, Cyprus, Croatia, Czech Republic, Canada, Denmark, Estonia, Egypt, Finland, France, Germany, Greece, Georgia, Hungary, Iceland, Ireland, Italy, Indonesia, Iran, Iraq, Israel, Japan, Jordan, Kazakhstan, Kuwait, Kyrgyzstan, Lebanon, Latvia, Latin America, Liechtenstein, Lithuania, Luxembourg, Malta, Madagascar, Mexico, Moldova, Monaco, Malaysia, Maldives, Mongolia, Myanmar (Burma), Nepal, New Zealand, North Korea, Netherlands, Norway, Nigeria, Oman, Poland, Portugal, Pakistan, Palestine, Philippines, Qatar, Russia, Romania, Russia, San Marino, Serbia and Montenegro, Slovakia, Slovenia, Spain, Sweden, Switzerland, Saudi Arabia, Singapore, South Korea, South Africa, Sri Lanka, Sudan, Syria, Taiwan, Tanzania, Tajikistan, Thailand, Turkey, Turkmenistan, Ukraine, United Kingdom, United Arab Emirates (UAE), Uzbekistan, Venezuela, Vietnam, Yemen, etc.
Supplying Mild Steel Flanges to Following Domestic Cities
---
Mumbai, Delhi, Kolkata, Chennai, Bengaluru, Hyderabad, Ahmadabad, Pune, Surat, Jaipur, Kanpur, Lucknow, Nagpur, Ghaziabad, Indore, Coimbatore, Kochi, Patna, Kozhikode, Bhopal, Thrissur, Vadodara, Agra, Malappuram, Thiruvananthapuram, Kannur, Ludhiana, Nashik, Vijayawada, Madurai, Varanasi, Meerut, Faridabad, Rajkot, Jamshedpur, Srinagar, Jabalpur, Asansol, Vasai Virar City, Allahabad, Dhanbad, Aurangabad, Amritsar, Jodhpur, Ranchi, Raipur, Kollam, Gwalior, Durg-Bhilainagar, Chandigarh, Tiruchirappalli, Kota, etc.
Industries where we supply Mild Steel Flanges
---
Chemicals, Petrochemicals, Oil & Natural Gas Organization, Fats, Fertilizers, Sugar Mills & Distilleries, Cement Industries, Ship Builders, Paper Industries, Pumps, Automation, Paints, Steel Industries, etc.