Copper Round Bars, Rods & Wires
Copper Round Bars, Rods & Wires Suppliers & Exporters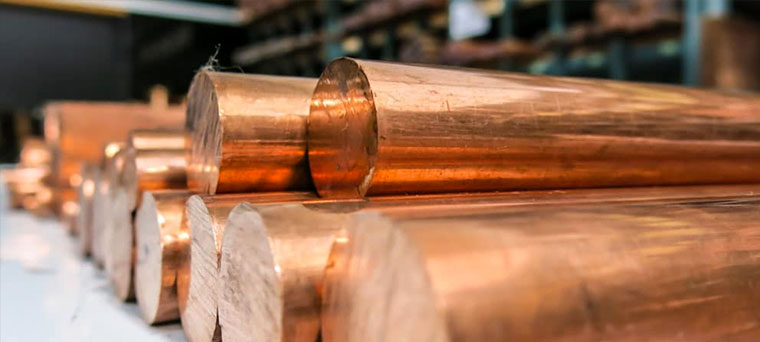 Most Recognized Supplier of Copper Round Bars, Copper Wires, Copper Bars, Cold Rolled Copper Round Bars, Copper Hot Rolled Rods Manufacturer, Copper Round Bars & Rods, Copper Wires Exporter
Copper Cold Drawn Round Bars, Copper Hot Rolled Round Bars, Copper Cold Rolled Rods, Copper Forged Bars, Copper Polished Bars, Copper Threaded Bars, Copper Polished Bars Stockist.
Deepak Steel India is the most prominent and leading manufacturer, supplier and exporter of finest quality Copper Round Bars, Rods & Wires in different forms, shapes, sizes, and other specifications. We use excellent quality raw materials and modern machinery to manufacture these Copper Round Bars, Rods & Wires as per Indian as well as international quality standards like ASME, ANSI, AISI, BS, etc.

Copper alloy is the most versatile metal elements which have excellent physical properties like strength, corrosion resistance, high conductivity, and ductility. The Copper Round Bars & Rods are best suitable for a wide range of applications including processing industries, manufacturing industries, marine industries, building materials and many more.

Moreover, Copper Round Bars, Rods & Wires are formed in different types such as Copper Cold Drawn Rods, Copper Hot Rolled Round Bars, Copper Threaded Round Bars, Copper Slatting Wires and many more. All these types are offered in several material grades such as Copper UNS C1100, Copper Alloy UNS C17200, Copper Alloy C17510, etc.

If you are looking to buy these Copper Alloy Round Bars, Rods &  Wires then kindly contact us with your requirements and get a free quotation.
Latest Price of Copper Alloy C11000 Round Bars, Copper Alloy C17510 Rods, Copper UNS C17510 Wires, Copper UNS C18200 Round Bars & Rods, Copper C17200 Rods & Round Bars, Copper Alloy UNS C11000 Rods, Copper Round Bars Price in India.
Copper Round Bars, Rods & Wires Specifications
---
| | |
| --- | --- |
| Specifications | ASTM B62 / ASTM SB62 |
| Dimensions | EN, DIN, JIS, ASTM, BS, ASME, AISI |
| Size | 5 mm To 500 mm |
| Diameter | 0.1 mm to 100 mm |
| Length | 100 mm To 3000 mm Long & Above |
| Finish | Black, Bright Polished, Rough Turned, NO.4 Finish, Matt Finish, BA Finish |
| Tolerance | H8, H9, H10, H11, H12, H13K9, K10, K11, K12 or as per clients' requirements |
| Form | Round, Square, Hex (A/F), Rectangle, Billet, Ingot, Forging Etc. |
Types of Copper Round Bars, Rods & Wires
---
Copper Bright Bar
UNS C12200 Bright Bar
Copper Hex Bar
ASTM B62 Copper Hex Bar
Copper Square Bar
UNS C12200 Square Bar
Copper Rectangular Bar
ASTM B62 Copper Rectangular Bar
Copper Flat Bars
UNS C12200 Flat Bars
Copper Polished Bar
ASTM B62 Copper Polished Bar
Copper Threaded Bar
ASTM B62 Copper Threaded Bar
Export Destination of Copper Round Bars, Rods & Wires
---
Exporting Copper Round Bars, Rods & Wires to Singapore, Malaysia, Hongkong, Thailand, Indonesia, Taiwan. Other countires includesAfghanistan, Albania, Andorra, Austria, Bahrain, Bangladesh, Bhutan, Brunei, Belarus, Belgium, Bulgaria, Cambodia, China, Cyprus, Croatia, Czech Republic, Denmark, Estonia, Egypt, Finland, France, Germany, Greece, Georgia, Hungary, Iceland, Ireland, Italy,Iran, Iraq, Israel, Japan, Jordan, Kazakhstan, Kuwait, Kyrgyzstan, Lebanon, Latvia, Latin America, Liechtenstein, Lithuania, Luxembourg, Malta, Moldova, Monaco, Maldives, Mongolia, Myanmar (Burma), Nepal, North Korea, Netherlands, Norway, Oman, Poland, Portugal, Pakistan, Palestine, Philippines, Qatar, Russia, Romania, Russia, San Marino, Serbia and Montenegro, Slovakia, Slovenia, Spain, Sweden, Switzerland, Saudi Arabia,South Korea, South Africa, Sri Lanka, Syria,Tanzania, Tajikistan, Thailand, Turkey, Turkmenistan, Ukraine, United Kingdom, United Arab Emirates (UAE), Uzbekistan, Vietnam, Yemen.
Supplying Copper Round Bars, Rods & Wires to Following Domestic Cities
---
Mumbai, Delhi, Kolkata, Chennai, Bengaluru, Hyderabad, Ahmadabad, Pune, Surat, Jaipur, Kanpur, Lucknow, Nagpur, Ghaziabad, Indore, Coimbatore, Kochi, Patna, Kozhikode, Bhopal, Thrissur, Vadodara, Agra, Malappuram, Thiruvananthapuram, Kannur, Ludhiana, Nashik, Vijayawada, Madurai, Varanasi, Meerut, Faridabad, Rajkot, Jamshedpur, Srinagar, Jabalpur, Asansol, Vasai Virar City, Allahabad, Dhanbad, Aurangabad, Amritsar, Jodhpur, Ranchi, Raipur, Kollam, Gwalior, Durg-Bhilainagar, Chandigarh, Tiruchirappalli, Kota, etc.
Industries where we supply Copper Round Bars, Rods & Wires
---
Chemicals, Petrochemicals, Oil & Natural Gas Organization, Fats, Fertilizers, Sugar Mills & Distilleries, Cement Industries, Ship Builders, Paper Industries, Pumps, Automation, Paints, Steel Industries, etc.