Gunmetal Round Bars, Rods & Wires
Gunmetal Round Bars, Rods & Wires Exporters & Manufacturers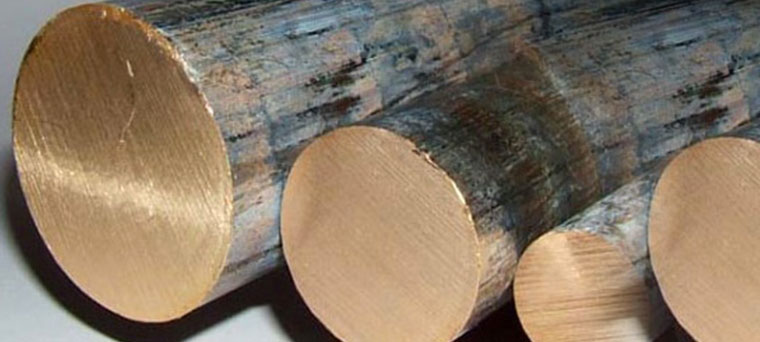 Most Recognized Supplier of Gunmetal Round Bars, Gunmetal Wires, Gunmetal Bars, Cold Rolled Gunmetal Round Bars, Gunmetal Hot Rolled Rods Manufacturer, Gunmetal Round Bars & Rods, Gunmetal Wires Exporter
Gunmetal Cold Drawn Round Bars, Gunmetal Hot Rolled Round Bars, Gunmetal Cold Rolled Rods, Gunmetal Forged Bars, Gunmetal Polished Bars, Gunmetal Threaded Bars, Gunmetal Polished Bars Stockist.
Deepak Steel India is the most trusted manufacturer, supplier, and exporter of supreme quality Gunmetal Round Bars, Rods & Wires. All these products are offered in different shapes, sizes, forms, types, dimensions, and other specifications. In order to provide the highest quality products, we use high-grade materials and advanced manufacturing processes to produce these gunmetal products.

Gunmetal is famously known as Red Brass in United States, as it largely been replaced by steel. The Gunmetal Round Bars & Rods contain a high amount of copper, tin, and zinc. By changing the chemical compositions they classified in a variety of material grades like Gunmetal Alloy C90500, Gunmetal Alloy C90300, and Gunmetal Alloy C23000, etc.

Our state of art warehouse has diverse types of Gunmetal Round Bars, Rods & Wires such as Gunmetal Hot Rolled Round Bars, Gunmetal Cold Rolled Rods, Gunmetal Threaded Bars, Gunmetal Slatting Wires, and Gunmetal Polished Round Bars & Rods, etc. All these types are manufactured according to national as well as international standards.

Please contact us today to buy these Gunmetal Round Bars, Rods & Wires at the most affordable prices.
Latest Price of Gunmetal Alloy C90500 Round Bars, Gunmetal C90300 Rods, Gunmetal C23000 Wires, Copper Alloy C23000 Round Bars & Rods, Gunmetal UNS C90500 Rods & Round Bars, Gunmetal Alloy UNS C23000 Rods, Gunmetal Round Bars Price in India.
Gunmetal Round Bars, Rods & Wires Specifications
---
| | |
| --- | --- |
| Specifications | ASTM B62 / ASTM SB62 |
| Dimensions | EN, DIN, JIS, ASTM, BS, ASME, AISI |
| Size | 5 mm To 500 mm |
| Diameter | 0.1 mm to 100 mm |
| Length | 100 mm To 3000 mm Long & Above |
| Finish | Black, Bright Polished, Rough Turned, NO.4 Finish, Matt Finish, BA Finish |
| Tolerance | H8, H9, H10, H11, H12, H13K9, K10, K11, K12 or as per clients' requirements |
| Form | Round, Square, Hex (A/F), Rectangle, Billet, Ingot, Forging Etc. |
Types of Gunmetal Round Bars, Rods & Wires
---
Copper Bright Bar
UNS C12200 Bright Bar
Copper Hex Bar
ASTM B62 Copper Hex Bar
Copper Square Bar
UNS C12200 Square Bar
Copper Rectangular Bar
ASTM B62 Copper Rectangular Bar
Copper Flat Bars
UNS C12200 Flat Bars
Copper Polished Bar
ASTM B62 Copper Polished Bar
Copper Threaded Bar
ASTM B62 Copper Threaded Bar
Export Destination of Gunmetal Round Bars, Rods & Wires
---
Exporting Gunmetal Round Bars, Rods & Wires to Singapore, Malaysia, Hongkong, Thailand, Indonesia, Taiwan. Other countires includesAfghanistan, Albania, Andorra, Austria, Bahrain, Bangladesh, Bhutan, Brunei, Belarus, Belgium, Bulgaria, Cambodia, China, Cyprus, Croatia, Czech Republic, Denmark, Estonia, Egypt, Finland, France, Germany, Greece, Georgia, Hungary, Iceland, Ireland, Italy,Iran, Iraq, Israel, Japan, Jordan, Kazakhstan, Kuwait, Kyrgyzstan, Lebanon, Latvia, Latin America, Liechtenstein, Lithuania, Luxembourg, Malta, Moldova, Monaco, Maldives, Mongolia, Myanmar (Burma), Nepal, North Korea, Netherlands, Norway, Oman, Poland, Portugal, Pakistan, Palestine, Philippines, Qatar, Russia, Romania, Russia, San Marino, Serbia and Montenegro, Slovakia, Slovenia, Spain, Sweden, Switzerland, Saudi Arabia,South Korea, South Africa, Sri Lanka, Syria,Tanzania, Tajikistan, Thailand, Turkey, Turkmenistan, Ukraine, United Kingdom, United Arab Emirates (UAE), Uzbekistan, Vietnam, Yemen.
Supplying Gunmetal Round Bars, Rods & Wires to Following Domestic Cities
---
Mumbai, Delhi, Kolkata, Chennai, Bengaluru, Hyderabad, Ahmadabad, Pune, Surat, Jaipur, Kanpur, Lucknow, Nagpur, Ghaziabad, Indore, Coimbatore, Kochi, Patna, Kozhikode, Bhopal, Thrissur, Vadodara, Agra, Malappuram, Thiruvananthapuram, Kannur, Ludhiana, Nashik, Vijayawada, Madurai, Varanasi, Meerut, Faridabad, Rajkot, Jamshedpur, Srinagar, Jabalpur, Asansol, Vasai Virar City, Allahabad, Dhanbad, Aurangabad, Amritsar, Jodhpur, Ranchi, Raipur, Kollam, Gwalior, Durg-Bhilainagar, Chandigarh, Tiruchirappalli, Kota, etc.
Industries where we supply Gunmetal Round Bars, Rods & Wires
---
Chemicals, Petrochemicals, Oil & Natural Gas Organization, Fats, Fertilizers, Sugar Mills & Distilleries, Cement Industries, Ship Builders, Paper Industries, Pumps, Automation, Paints, Steel Industries, etc.