Inconel/Incoloy Buttweld fittings
Inconel/Incoloy Buttweld Fittings Exporters & Manufacturers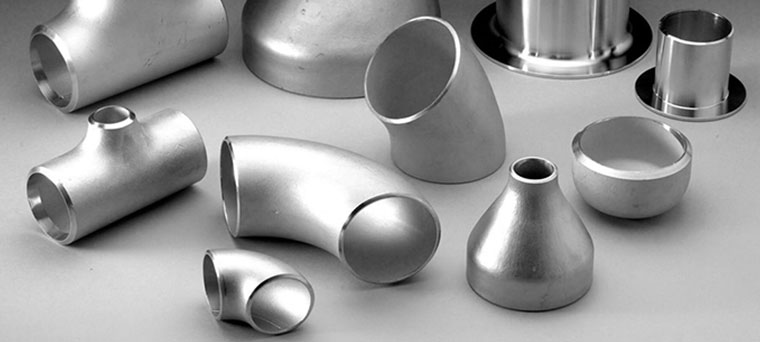 ASTM B366 Inconel Buttweld Fittings Supplier, Best Quality Inconel Buttweld Fittings, Incoloy High-Pressure Butt Weld Fittings, Inconel Elbow Fittings Manufacturer, Incoloy Buttweld Tee Fittings, Incoloy Reducer Buttweld Fittings Exporter
ASME SB 366 Inconel Buttweld Fittings, Incoloy W. Nr. 2.4816 Pipe End Cap Fittings, Inconel UNS N06600 Buttweld Fittings, Inconel 600 Buttweld Fittings Stockist, Incoloy 800 Buttweld Long Radius Fittings
Deepak Steel India is the most eminent manufacturer, supplier, and exporter of a prime range of Inconel Buttweld Fittings and Incoloy Buttweld Fittings. These pipe fittings are available in different forms, shapes, sizes, dimensions and other specifications. Buttweld Fittings are widely used for larger pipe diameter not less than 2 inches.
The basic purpose to use Buttweld Pipe Fitting is to change flow direction, increase/decrease bore diameter, blind pipeline or branch of the pipeline in a piping system. Inconel Buttweld Pipe Fittings are formed from standard engineering material consist of nickel, chromium and iron alloy. As they having a higher percentage of chromium and nickel these pipe fittings offer high strength and toughness. Similarly, Incoloy Buttweld Fittings exhibit excellent resistance to corrosion as well as heat.
We manufacture Inconel/Incoloy Buttweld Fittings in different types including Inconel Pipe Nipple, Incoloy End Cap Buttweld Fittings, Inconel Long Radius Buttweld Fittings, Incoloy Reducer Buttweld Fittings and more. These types are supplied in diverse materials notably Inconel 600/601/625 and Incoloy 800/825, etc.  Kindly contact us today and get a free estimation.
Inconel UNS N06601 Pipe Nipple, Incoloy W. Nr. 2.4851 Buttweld Cross Fittings, Latest Price of Inconel 625 Buttweld Fittings, Incoloy 825 Seamless Buttweld Fittings, Inconel 601 Reducer Buttweld Fittings Exporter, Inconel UNS N08800 Steel Buttweld Fittings Price.
Specifications for Inconel/Incoloy Buttweld fittings
---
| | |
| --- | --- |
| Specifications | ASTM B366 / ASME SB366 |
| Size | Seamless Butt Weld Fittings: 1/2″ – 10″, Welded Butt Weld Fittings: 1/2″ – 48″ |
| Standards | ASME/ANSI B16.9, ASME B16.28, MSS-SP-43 |
| Thickness | 5s, 10s, 40s, 80s, 10, 20, 40, STD, 60, 80, XS, 100, 120, 140, 160, XXS available with NACE MR 01-75 |
| Types | Seamless / Welded / Fabricated |
Types of Inconel/Incoloy Buttweld fittings
---
Inconel 45 Degree Elbow
Inconel Buttweld Fitting
ASTM B366 Incoloy Eccentric Reducer
Inconel Equal Tee
MSS-SP-43 Incoloy Short Stub End
Inconel Alloy End Cap
Inconel 5D Bend
Inconel U Bend
ASME SB366 Incoloy 45 Degree Elbow
Incoloy Pipe Fitting
ANSI B16.9 Inconel Concentric Reducer
ASME B16.28 Incoloy Lateral Tee
Inconel Long Stub End
Inconel 3D Pipe Bend
ANSI B16.9 WP Inconel Equal Cross
Inconel 180D Bend
Export Destination of Inconel/Incoloy Buttweld fittings
---
Exporting Inconel/Incoloy Buttweld fittings to over 60 countries including Afghanistan, Albania, Andorra, Angloa, Austria, Australia, Bahrain, Bangladesh, Bhutan, Brazil, Brunei, Belarus, Belgium, Bulgaria, Cambodia, China, Cyprus, Croatia, Czech Republic, Canada, Denmark, Estonia, Egypt, Finland, France, Germany, Greece, Georgia, Hungary, Iceland, Ireland, Italy, Indonesia, Iran, Iraq, Israel, Japan, Jordan, Kazakhstan, Kuwait, Kyrgyzstan, Lebanon, Latvia, Latin America, Liechtenstein, Lithuania, Luxembourg, Malta, Madagascar, Mexico, Moldova, Monaco, Malaysia, Maldives, Mongolia, Myanmar (Burma), Nepal, New Zealand, North Korea, Netherlands, Norway, Nigeria, Oman, Poland, Portugal, Pakistan, Palestine, Philippines, Qatar, Russia, Romania, Russia, San Marino, Serbia and Montenegro, Slovakia, Slovenia, Spain, Sweden, Switzerland, Saudi Arabia, Singapore, South Korea, South Africa, Sri Lanka, Sudan, Syria, Taiwan, Tanzania, Tajikistan, Thailand, Turkey, Turkmenistan, Ukraine, United Kingdom, United Arab Emirates (UAE), Uzbekistan, Venezuela, Vietnam, Yemen, etc.
Supplying Inconel/Incoloy Buttweld fittings to Following Domestic Cities
---
Mumbai, Delhi, Kolkata, Chennai, Bengaluru, Hyderabad, Ahmadabad, Pune, Surat, Jaipur, Kanpur, Lucknow, Nagpur, Ghaziabad, Indore, Coimbatore, Kochi, Patna, Kozhikode, Bhopal, Thrissur, Vadodara, Agra, Malappuram, Thiruvananthapuram, Kannur, Ludhiana, Nashik, Vijayawada, Madurai, Varanasi, Meerut, Faridabad, Rajkot, Jamshedpur, Srinagar, Jabalpur, Asansol, Vasai Virar City, Allahabad, Dhanbad, Aurangabad, Amritsar, Jodhpur, Ranchi, Raipur, Kollam, Gwalior, Durg-Bhilainagar, Chandigarh, Tiruchirappalli, Kota, etc.
Industries where we supply Inconel/Incoloy Buttweld fittings
---
Chemicals, Petrochemicals, Oil & Natural Gas Organization, Fats, Fertilizers, Sugar Mills & Distilleries, Cement Industries, Ship Builders, Paper Industries, Pumps, Automation, Paints, Steel Industries, etc.