Monel Buttweld Fittings Exporter & Manufacturer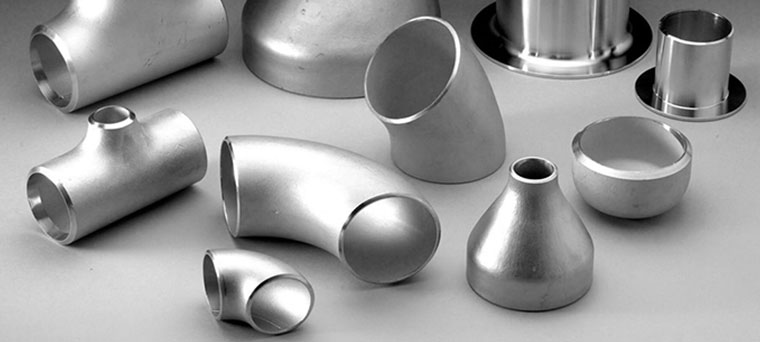 ASTM B366 Monel Buttweld Fittings Supplier, Best Quality Monel Buttweld Fittings, Monel High-Pressure Butt Weld Fittings, Monel Elbow Fittings Manufacturer, Monel Buttweld Tee Fittings, Monel Reducer Buttweld Fittings Exporter
ASME SB 366 Monel Buttweld Fittings, Monel W. Nr. 2.4375 Pipe End Cap Fittings, Monel UNS N04400 Buttweld Fittings, Monel 400 Buttweld Fittings Stockist, Monel K500 Buttweld Long Radius Fittings
We are Deepak Steel India offering and delivering premium quality of Monel Buttweld Fittings in various types, shapes, sizes, dimensions, and other specifications. With the help of modern machinery and high grade materials, we produce these Buttweld Pipe Fittings as per Indian and International quality standards. Our high-quality fittings are highly appreciated by our worldwide customers.
Monel Buttweld Fittings are solid-solution alloy that can be hardened only by a cold working process to improve their strength and toughness. These pipe fittings are useful to change fluid flow direction, increase/decrease bore diameter, branch-offa or blind pipeline in a high-grade piping system. The Monel Buttweld Fittings have some advantages features like:
Hassle-free installation
Improved strength
Leak-proof connection
Superior surface finish & more.
We have comprehensive type of buttweld pipe fittings including Monel Buttweld Cross Pipe Fittings, Monel Pipe Nipple Buttweld Fittings, Monel Buttweld Long Radius Pipe Fittings, and more. These types are available in diverse material grades like Monel 400 Buttweld Fittings, and Monel K500 Buttweld Pipe Fittings, etc. Kindly contact us with your specific requirements and request a free quotation.
Monel UNS N05500 Pipe Nipple, Monel W. Nr. 2.4360 Buttweld Cross Fittings, Latest Price of Monel Buttweld Fittings, Monel Seamless Buttweld Fittings, Monel Reducer Buttweld Fittings Exporter, Alloy Buttweld Fittings Price.
Specifications for Monel Buttweld fittings
---
| | |
| --- | --- |
| Specifications | ASTM B366 / ASME SB366 |
| Size | Seamless Butt Weld Fittings: 1/2″ – 10″, Welded Butt Weld Fittings: 1/2″ – 48″ |
| Standards | ASME/ANSI B16.9, ASME B16.28, MSS-SP-43 |
| Thickness | 5s, 10s, 40s, 80s, 10, 20, 40, STD, 60, 80, XS, 100, 120, 140, 160, XXS available with NACE MR 01-75 |
| Types | Seamless / Welded / Fabricated |
Types of Monel Buttweld fittings
---
Monel 45 Degree Elbow
Monel Buttweld Fitting
ASTM B366 Monel Eccentric Reducer
Monel Eccentric Reducer
MSS-SP-43 Monel Short Stub End
Monel End Cap
ASME SB366 Monel 45 Degree Elbow
ASTM B366 Monel Eccentric Reducer
Monel Lateral Tee
ASME B16.28 Monel Lateral Tee
ASME SB366 Monel 45 Degree Elbow
ANSI B16.9 Monel Concentric Reducer
ASME B16.28 Monel Lateral Tee
ANSI B16.9 WP Monel Equal Cross
Monel Alloy Equal Tee
ASTM B366 Monel Equal Tee
Monel Equal Cross
ANSI B16.9 WP Monel Equal Cross
ASTM B366 Monel End Cap
MSS-SP-43 Monel Short Stub End
Export Destination of Monel Buttweld fittings
---
Exporting Monel Buttweld fittings to over 60 countries including Afghanistan, Albania, Andorra, Angloa, Austria, Australia, Bahrain, Bangladesh, Bhutan, Brazil, Brunei, Belarus, Belgium, Bulgaria, Cambodia, China, Cyprus, Croatia, Czech Republic, Canada, Denmark, Estonia, Egypt, Finland, France, Germany, Greece, Georgia, Hungary, Iceland, Ireland, Italy, Indonesia, Iran, Iraq, Israel, Japan, Jordan, Kazakhstan, Kuwait, Kyrgyzstan, Lebanon, Latvia, Latin America, Liechtenstein, Lithuania, Luxembourg, Malta, Madagascar, Mexico, Moldova, Monaco, Malaysia, Maldives, Mongolia, Myanmar (Burma), Nepal, New Zealand, North Korea, Netherlands, Norway, Nigeria, Oman, Poland, Portugal, Pakistan, Palestine, Philippines, Qatar, Russia, Romania, Russia, San Marino, Serbia and Montenegro, Slovakia, Slovenia, Spain, Sweden, Switzerland, Saudi Arabia, Singapore, South Korea, South Africa, Sri Lanka, Sudan, Syria, Taiwan, Tanzania, Tajikistan, Thailand, Turkey, Turkmenistan, Ukraine, United Kingdom, United Arab Emirates (UAE), Uzbekistan, Venezuela, Vietnam, Yemen, etc.
Supplying Monel Buttweld fittings to Following Domestic Cities
---
Mumbai, Delhi, Kolkata, Chennai, Bengaluru, Hyderabad, Ahmadabad, Pune, Surat, Jaipur, Kanpur, Lucknow, Nagpur, Ghaziabad, Indore, Coimbatore, Kochi, Patna, Kozhikode, Bhopal, Thrissur, Vadodara, Agra, Malappuram, Thiruvananthapuram, Kannur, Ludhiana, Nashik, Vijayawada, Madurai, Varanasi, Meerut, Faridabad, Rajkot, Jamshedpur, Srinagar, Jabalpur, Asansol, Vasai Virar City, Allahabad, Dhanbad, Aurangabad, Amritsar, Jodhpur, Ranchi, Raipur, Kollam, Gwalior, Durg-Bhilainagar, Chandigarh, Tiruchirappalli, Kota, etc.
Industries where we supply Monel Buttweld fittings
---
Chemicals, Petrochemicals, Oil & Natural Gas Organization, Fats, Fertilizers, Sugar Mills & Distilleries, Cement Industries, Ship Builders, Paper Industries, Pumps, Automation, Paints, Steel Industries, etc.