Alloy 20 Pipes & Tubes Exporter & Manufacturer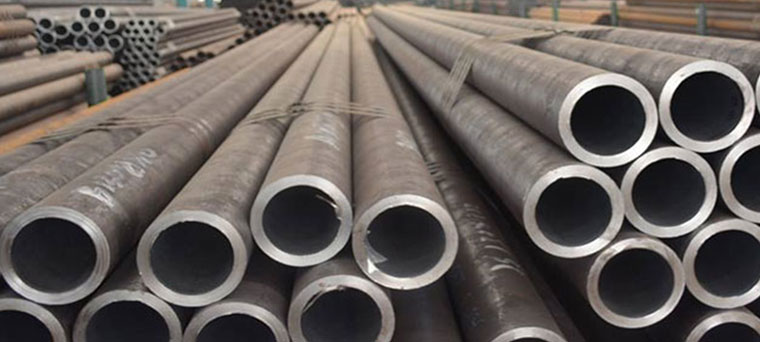 Top quality Alloy 20 Pipes Supplier, Alloy 20 Tubes, Alloy Tubes, Alloy 20 Welded Tubing, Alloy Pipes, Hot Finished Alloy 20 Pipes, Alloy 20 Seamless Pipe, Cold Finished Alloy 20 Tubes, Alloy 20 ERW Pipes, Manufacturer
Alloy 20 Round Pipes & Tubes, Alloy 20 Heat Exchanger Tubes, Alloy 20 Square Pipes & Tubes Stockist, Alloy 20 EFW Pipes, Alloy 20 Hollow Pipes & Tubes Supplier, Alloy 20 Rectangular Tubing Exporter
Deepak Steel (India) is the most prominent manufacturer, supplier and exporter of premium quality Alloy 20 Pipes & Tubes in various forms, shapes, sizes, and dimensions. Adopting the highest industrial standards and using the finest quality raw materials to produced alloy 20 pipes & tubes in order to meet customer's requirements.
Nickel Alloy 20 Pipes & Tubes are low-carbon version containing austenitic nickel, iron, chromium alloy with additional copper and molybdenum. Alloy 20 Pipes & Tubes offer exceptional resistance to corrosion to chemical environments like nitric acids and chlorides. These pipes & tubes are more famous as they exhibit good mechanical properties at normal temperature and pressure.
We manufacture different types of Nickel Alloy 20 Pipes & Tubes like Alloy 20 Seamless Pipes & Tubes, Alloy 20 Welded Pipes & Tubes, and many more. Alloy UNS N08020 Pipes & Tubes are extensively used in many fields including marine industries, paper & pulp production, chemical & food processing and much more.
The Alloy 20 Pipes & Tubes are supplied in standard as well as customized dimensions according to the customer's requirement. Please Contact us today and get a free estimation.
Alloy 20 Tubes, Alloy 20 Pipes, Alloy 20 Pipes Stockist, Alloy UNS N08020 Tubing, Alloy UNS N08020 Pipes, Alloy UNS N08020 Tubes Exporter, Alloy 20 Tubes Manufacturer, Latest Price of Alloy 20 Pipes & Tubes in India
Specifications for Alloy 20 Pipes & Tubes
| | |
| --- | --- |
| Specifications | ASTM B 729 ASME SB 729 / ASTM B 464 ASME SB 464 |
| Dimensions | ASTM, ASME and API |
| Size | 4 to 219mm W. T.: 0.5 to 20mm |
| Specialized in | Large Diameter Size |
| Length | Within 13500mm |
| Type | Seamless / ERW / Welded / Fabricated |
| Form | Round, Hydraulic Etc |
| Length | Single Random, Double Random & Cut Length. |
| End | Plain End, Beveled End, Treaded |
Types of Alloy 20 Pipes & Tubes
---
Alloy 20 Seamless Pipe
UNS N08020 Seamless Pipe
WERKSTOFF NR. 2.4660 Seamless Pipe
ASTM B729 20 Alloy Seamless Pipes
Alloy 20 Welded Pipe
Alloy 20 ERW Pipe
Alloy 20EFW Pipe
Alloy 20 Round Pipe
UNS N08020 Round Pipe
Alloy 20 Custom Pipe
Alloy 20 Seamless Tubes
UNS N08020 Seamless Tubes
WERKSTOFF NR. 2.4660 Seamless Tubes
ASTM B729 20 Alloy Seamless Tubes
Alloy 20 Welded Tubes
Alloy 20 ERW Tubes
Alloy 20EFW Tubes
Alloy 20 Round Tubes
UNS N08020 Round Tubes
Alloy 20 Custom Tubes
Export Destination of Alloy 20 Pipes & Tubes
---
Exporting Alloy 20 Pipes & Tubes to over 60 countries including Afghanistan, Albania, Andorra, Angloa, Austria, Australia, Bahrain, Bangladesh, Bhutan, Brazil, Brunei, Belarus, Belgium, Bulgaria, Cambodia, China, Cyprus, Croatia, Czech Republic, Canada, Denmark, Estonia, Egypt, Finland, France, Germany, Greece, Georgia, Hungary, Iceland, Ireland, Italy, Indonesia, Iran, Iraq, Israel, Japan, Jordan, Kazakhstan, Kuwait, Kyrgyzstan, Lebanon, Latvia, Latin America, Liechtenstein, Lithuania, Luxembourg, Malta, Madagascar, Mexico, Moldova, Monaco, Malaysia, Maldives, Mongolia, Myanmar (Burma), Nepal, New Zealand, North Korea, Netherlands, Norway, Nigeria, Oman, Poland, Portugal, Pakistan, Palestine, Philippines, Qatar, Russia, Romania, Russia, San Marino, Serbia and Montenegro, Slovakia, Slovenia, Spain, Sweden, Switzerland, Saudi Arabia, Singapore, South Korea, South Africa, Sri Lanka, Sudan, Syria, Taiwan, Tanzania, Tajikistan, Thailand, Turkey, Turkmenistan, Ukraine, United Kingdom, United Arab Emirates (UAE), Uzbekistan, Venezuela, Vietnam, Yemen, etc.
Supplying  Alloy 20 Pipes & Tubes  to Following Domestic Cities
---
Mumbai, Delhi, Kolkata, Chennai, Bengaluru, Hyderabad, Ahmadabad, Pune, Surat, Jaipur, Kanpur, Lucknow, Nagpur, Ghaziabad, Indore, Coimbatore, Kochi, Patna, Kozhikode, Bhopal, Thrissur, Vadodara, Agra, Malappuram, Thiruvananthapuram, Kannur, Ludhiana, Nashik, Vijayawada, Madurai, Varanasi, Meerut, Faridabad, Rajkot, Jamshedpur, Srinagar, Jabalpur, Asansol, Vasai Virar City, Allahabad, Dhanbad, Aurangabad, Amritsar, Jodhpur, Ranchi, Raipur, Kollam, Gwalior, Durg-Bhilainagar, Chandigarh, Tiruchirappalli, Kota
Industries where we supply Alloy 20 Pipes & Tubes
---
Chemicals, Petrochemicals, Oil & Natural Gas Organization, Fats, Fertilizers, Sugar Mills & Distilleries, Cement Industries, Ship Builders, Paper Industries, Pumps, Automation, Paints, Steel Industries, etc.