Cupro Nickel Pipes & Tubes
Cupro Nickel Pipes & Tubes Exporter & Manufacturer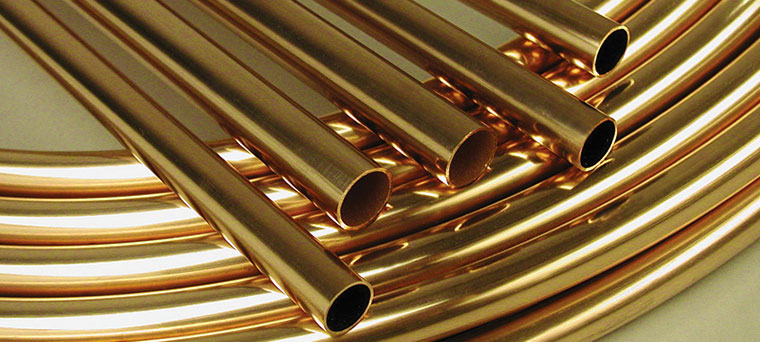 Leading Manufacturer of Copper Nickel Pipes & Tubes, Copper Nickel 90/10 Seamless Pipes, Copper Nickel 90/10 Pipes Exporter, Cu-Ni Pipes & Tubes, Cupro Nickel Pipes & Tubes, Copper Nickel 70/30 Tubes Supplier, Copper Nickel 70/30 Welded Tubes Supplier in Mumbai, India
ASME SB466M Copper Nickel 90-10 welded Tubes, Copper Nickel Seamless Pipes, 70-30 Copper Nickel Welded Tubing, Copper Nickel Tubes, Copper Nickel Pipes, Copper Nickel UNS C70600 Seamless Pipes & Tubes Exporter
Deepak Steel India is the most eminent manufacturer, supplier, and exporter of a broad range of Cupronickel Pipes & Tubes in different forms, shapes, sizes, and dimensions. Using premium quality products and advanced manufacturing practices, we manufacture these pipes & tubes as per national as well as international standards.
Cupronickel Pipes & Tubes are an alloy of copper that contains nickel and strengthening elements notably iron and manganese. These Copper Nickel Pipes & Tubes are extensively used for marine applications due to outstanding resistance to corrosion to seawater, and good fabricability. Similarly, cupronickel pipes & tubes are widely used in processing industries and marine applications.
We manufacture these pipes & tubes in various types including Cupronickel Seamless Pipes & Tubes, Cupronickel Welded Pipes & Tubes and more. All these forms are supplied in several material grades including Cupronickel 70/30 Pipes & Tubes and Cupronickel 90/10 Pipes & Tubes, etc. We are experts in providing these pipes & tubes in standard as well as customized dimensions.
If you are looking to buy these Copper Nickel Pipes & Tubes, then please Contact us today and get a free estimation.
Stockiest of Copper Nickel UNS C71500 Square Tubing, ASTM B466 UNS C70600 Seamless & Welded Pipes & Tubes Stockiest, 90-10 Cupro-Nickel Rectangular Pipes, Copper Nickel 70/30 Tubes, Cu-Ni Welded Pipes & Tubes
Specifications for Cupro Nickel Pipes & Tubes
| | |
| --- | --- |
| Specifications | ASTM B 466 ASME SB 466 / ASTM B 467 ASME SB 467 |
| Dimensions | ASTM, ASME and API |
| Size | 1/2″ TO 6′ IN OD & NB IN Various SWG & SCH |
| Specialized in | Large Diameter Size |
| Type | Seamless / ERW / Welded / Fabricated |
| Form | Round, Hydraulic Etc |
| Length | Single Random, Double Random & Cut Length. |
| End | Plain End, Beveled End, Treaded |
Types of Stainless Cupro Nickel Pipes & Tubes
---
Cupro Nickel Seamless Pipe
Cupro Nickel Welded Pipe
Cupro Nickel Round Pipe
Custom Cupro Nickel Pipe
Cupro Nickel ERW Pipe
Cupro Nickel Cu Round Pipe
Cu-Ni Custom Pipe
ASTM B467 Cupro Nickel Welded Pipes
ASTM B466 Cupro Nickel Round Pipes
ASME SB111 Cu-Ni Custom Pipes
Cupro Nickel Seamless Tube
Cupro Nickel Welded Tube
Cupro Nickel Round Tube
Cu Seamless Tube
Cupro Nickel ERW Tube
Cupro Nickel Cu Round Tube
Cu Welded Tube
ASTM B111 Cu Nickel Seamless Tube
ASTM B552 Cu-Ni Welded Tubes
ASTM B466 Cu-Ni Round Tubes
Export Destination of Cupro Nickel Pipes & Tubes
---
Exporting Pipes & Tubes to over 60 countries including Afghanistan, Albania, Andorra, Angloa, Austria, Australia, Bahrain, Bangladesh, Bhutan, Brazil, Brunei, Belarus, Belgium, Bulgaria, Cambodia, China, Cyprus, Croatia, Czech Republic, Canada, Denmark, Estonia, Egypt, Finland, France, Germany, Greece, Georgia, Hungary, Iceland, Ireland, Italy, Indonesia, Iran, Iraq, Israel, Japan, Jordan, Kazakhstan, Kuwait, Kyrgyzstan, Lebanon, Latvia, Latin America, Liechtenstein, Lithuania, Luxembourg, Malta, Madagascar, Mexico, Moldova, Monaco, Malaysia, Maldives, Mongolia, Myanmar (Burma), Nepal, New Zealand, North Korea, Netherlands, Norway, Nigeria, Oman, Poland, Portugal, Pakistan, Palestine, Philippines, Qatar, Russia, Romania, Russia, San Marino, Serbia and Montenegro, Slovakia, Slovenia, Spain, Sweden, Switzerland, Saudi Arabia, Singapore, South Korea, South Africa, Sri Lanka, Sudan, Syria, Taiwan, Tanzania, Tajikistan, Thailand, Turkey, Turkmenistan, Ukraine, United Kingdom, United Arab Emirates (UAE), Uzbekistan, Venezuela, Vietnam, Yemen, etc.
Supplying Cupro Nickel Pipes & Tubes to Following Domestic Cities
---
Mumbai, Delhi, Kolkata, Chennai, Bengaluru, Hyderabad, Ahmadabad, Pune, Surat, Jaipur, Kanpur, Lucknow, Nagpur, Ghaziabad, Indore, Coimbatore, Kochi, Patna, Kozhikode, Bhopal, Thrissur, Vadodara, Agra, Malappuram, Thiruvananthapuram, Kannur, Ludhiana, Nashik, Vijayawada, Madurai, Varanasi, Meerut, Faridabad, Rajkot, Jamshedpur, Srinagar, Jabalpur, Asansol, Vasai Virar City, Allahabad, Dhanbad, Aurangabad, Amritsar, Jodhpur, Ranchi, Raipur, Kollam, Gwalior, Durg-Bhilainagar, Chandigarh, Tiruchirappalli, Kota
Industries where we supply Cupro Nickel Pipes & Tubes
---
Chemicals, Petrochemicals, Oil & Natural Gas Organization, Fats, Fertilizers, Sugar Mills & Distilleries, Cement Industries, Ship Builders, Paper Industries, Pumps, Automation, Paints, Steel Industries, etc.