Alloy Steel Forged fittings
Alloy Steel Forged Fittings Exporters & Manufacturers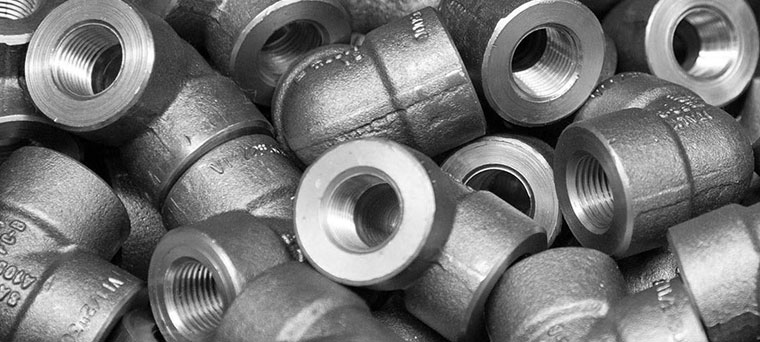 Leading Manufacturer of Alloy Steel Forged Fittings, and Alloy Steel Forged Elbow, Alloy Stainless Steel Threaded Pipe Fittings, and Alloy Steel Hex Head Plug, Alloy Steel Threaded Tee Fittings Exporter, ASTM A182 Alloy Steel Forged Fittings Supplier
Alloy Steel Socket Weld Forged Cross, Alloy Steel Forged High-Pressure Fittings, Alloy Socket weld Branch Outlet, and Alloy Steel Forged Couplings, Alloy Steel 45 Deg. Elbow, Alloy Steel Forged Cap Stockist, and Alloy Steel Forged Union Trader, Alloy Steel Hex Nipple Forged Fittings
Deepak Steel India is offering and delivering the highest quality Alloy Steel Forged Fittings to domestic as well as international markets. We are expert in manufacturing these forged fittings in different material grades, shapes, sizes, dimensions and other specifications. The high-quality materials and adopting the highest industrial standards, we manufacture these Alloy Steel Forged Pipe Fittings according to national and international markets.
Steel that can be alloyed with other metal elements to formed Alloy Steel that offer good strength and excellent resistance to corrosion over a comprehensive range of temperatures. Apart from this, Alloy Steel used to make high quality forged fittings name Alloy Steel Forged Fittings. These Forged Pipe Fittings are available in diverse types including:
Alloy Steel Reducer Forged Fittings
Alloy Steel Pipe Nipple Forged Fittings
Alloy Steel Union Forged Fittings
Alloy Steel 45/90/180 Degree Forged Fittings and more.
We manufacture these Forged Pipe Fittings in standard as well as customized dimensions as per customers' requirements and drawings. ASTM A182 Alloy Steel Forged Pipe Fittings are highly used in marine piping, heat exchangers, processing chemical/food industries and more. Kindly call us and get these fittings at the most competitive prices.
Alloy Steel Nipple Branch Outlet, Alloy Steel Threaded Reducer Fittings, Alloy Steel Forged Lateral Tee, Alloy Steel Forged Boss Fittings, Alloy Steel 90 Deg. Elbow Outlet, Alloy Steel Forged Reducing Cross, Alloy Steel Forged Full Couplings Price in India
Specifications for Alloy Steel Forged fittings
---
| | |
| --- | --- |
| Standards | ASTM A182 & ASME SA182 |
| Grades | F1, F5, F9, F11, F12, F22, F91 |
| Range | 15 NB to 100 NB x 2000# to 9000# |
| Schedules | 5s, 10s, 40s, 80s, 10, 20, 40, STD, 60, 80, XS, 100, 120, 140, 160, XXS with NACE Certifications |
| Standards | ASME 16.11, MSS SP-79, 83, 95, 97, BS 379 |
| Types | Seamless, Welded & Fabricated |
| Form | Socketweld/Threaded – Elbow, Tee, Cross, Reducer, Coupling, cap, Hex Nipple, Hex Plug, Round Plug, Square Plug, Bushing, Union, Weldolet, Threadolet, Sockolet, Elbolet, Nipolet, Flageolet, Latrolet, Sweepolet. |
Types of Alloy Steel Forged fittings
---
Alloy Steel Threaded 90 Deg Elbow
AS Threaded Forged Tee
Alloy Steel Threaded CroAS
AS Threaded Half Coupling
Alloy Steel Threaded Forged Cap
AS Threaded Hex Plug
Alloy Steel Threaded Bushing
AS Threaded Swage Nipple
Alloy Steel Threaded Pipe Nipple
AS Threaded 45 Deg Elbow
Alloy Steel Threaded Unequal Tee
AS Threaded Unequal CroAS
Alloy Steel Threaded Full Coupling
AS Threaded Union
Alloy Steel Threaded Square Plug
AS Threaded Hex Nipple
Alloy Steel Threaded Street Elbow
AS Forged Pipe Fittings
Export Destination of Alloy Steel Forged fittings
---
Exporting Alloy Steel Forged fittings to Singapore, Malaysia, Hongkong, Thailand, Indonesia, Taiwan. Other countires includesAfghanistan, Albania, Andorra, Austria, Bahrain, Bangladesh, Bhutan, Brunei, Belarus, Belgium, Bulgaria, Cambodia, China, Cyprus, Croatia, Czech Republic, Denmark, Estonia, Egypt, Finland, France, Germany, Greece, Georgia, Hungary, Iceland, Ireland, Italy,Iran, Iraq, Israel, Japan, Jordan, Kazakhstan, Kuwait, Kyrgyzstan, Lebanon, Latvia, Latin America, Liechtenstein, Lithuania, Luxembourg, Malta, Moldova, Monaco, Maldives, Mongolia, Myanmar (Burma), Nepal, North Korea, Netherlands, Norway, Oman, Poland, Portugal, Pakistan, Palestine, Philippines, Qatar, Russia, Romania, Russia, San Marino, Serbia and Montenegro, Slovakia, Slovenia, Spain, Sweden, Switzerland, Saudi Arabia,South Korea, South Africa, Sri Lanka, Syria,Tanzania, Tajikistan, Thailand, Turkey, Turkmenistan, Ukraine, United Kingdom, United Arab Emirates (UAE), Uzbekistan, Vietnam, Yemen.
Supplying Alloy Steel Forged fittings to Following Domestic Cities
---
Mumbai, Delhi, Kolkata, Chennai, Bengaluru, Hyderabad, Ahmadabad, Pune, Surat, Jaipur, Kanpur, Lucknow, Nagpur, Ghaziabad, Indore, Coimbatore, Kochi, Patna, Kozhikode, Bhopal, Thrissur, Vadodara, Agra, Malappuram, Thiruvananthapuram, Kannur, Ludhiana, Nashik, Vijayawada, Madurai, Varanasi, Meerut, Faridabad, Rajkot, Jamshedpur, Srinagar, Jabalpur, Asansol, Vasai Virar City, Allahabad, Dhanbad, Aurangabad, Amritsar, Jodhpur, Ranchi, Raipur, Kollam, Gwalior, Durg-Bhilainagar, Chandigarh, Tiruchirappalli, Kota, etc.
Industries where we supply Alloy Steel Forged fittings
---
Chemicals, Petrochemicals, Oil & Natural Gas Organization, Fats, Fertilizers, Sugar Mills & Distilleries, Cement Industries, Ship Builders, Paper Industries, Pumps, Automation, Paints, Steel Industries, etc.