Copper & Copper Alloy Forged fittings
Copper & Copper Alloy Forged Fittings Manufacturers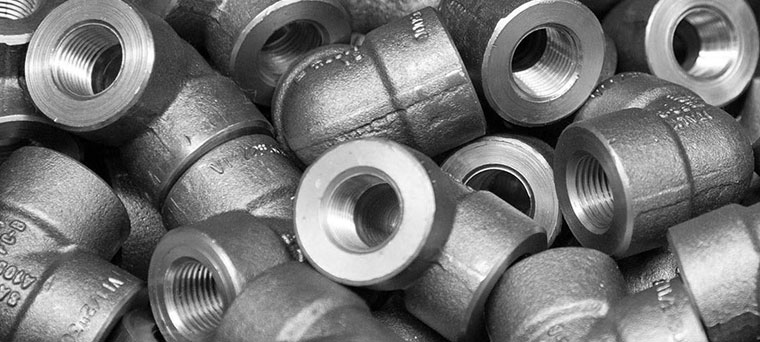 Leading Manufacturer of Copper Forged Fittings, and Copper Forged Elbow, Copper Alloy Threaded Pipe Fittings, and Copper Alloy Hex Head Plug, Copper Threaded Tee Fittings Exporter, ASTM A182 Copper Alloy Forged Fittings Supplier
Copper Socket Weld Forged Cross, Copper Alloy Forged High-Pressure Fittings, Alloy Socket weld Branch Outlet, and Copper Forged Couplings, Copper Alloy 45 Deg. Elbow, Copper Forged Cap Stockist and Copper Forged Union Trader, Copper Alloy Hex Nipple Forged Fittings
Here at, Deepak Steel India, we are offering and exporting premium quality Copper Forged Fittings and Copper Alloy Forged Fittings. These Pipe Fittings are available in various forms, shapes, sizes, dimensions and other specifications. With help of high-grade metal elements, we manufacture these forged pipes fittings that are best suitable for changing fluid flow direction, increase/decrease bore size, branching off or blind pipeline in piping & tubing systems.
Copper Forged Pipe Fittings are one of these most preferred pipe fittings for refrigeration and air conditioning components as they offer good thermal and electrical conductivity. Nowadays, Copper Alloy Forged Fittings are extensively used in medical, electronics manufacturing, paper & pulp production, gas distribution pipelines and dairy equipment, etc.
We have a comprehensive range of Copper & Copper Alloy Forged Pipe Fittings including Copper Forged Union Cap Fittings, Copper Alloy Nipple Branch Outlet, Copper Lateral Tee Forged Fittings, Copper Alloy 90 Deg. Elbow Forged Pipe Fittings and many more. All these types are supplied in diverse material grades notably Copper Alloy 70/30 Forged Fittings, Copper Alloy 90/10 Forged Fittings and more.
Kindly contact us with your specific requirements and get a free estimation. We are well known for offering high-quality products at the most reasonable prices.
Copper Alloy Nipple Branch Outlet, Copper Threaded Reducer Fittings, Copper Alloy Forged Lateral Tee, Copper Alloy Forged Boss Fittings, Copper 90 Deg. Elbow Outlet, Copper Alloy Forged Reducing Cross, Copper Alloy Forged Full Couplings Price in India
Specifications for Copper & Copper Alloy Forged fittings
---
| | |
| --- | --- |
| Specifications | ASTM B122, B171, B466, B467,ASTM B62 & ASME B62 |
| Size | 1/8" NB to 4" NB (Threaded Forged & Screwed-Forged) |
| Standards | ASME 16.11, ASME 16.15, MSS SP-79, 83, 95, 97, BS 3799 |
| Class | 2000 LBS, 3000 LBS, 6000 LBS, 9000 LBS |
| Types | Threaded Forged Fittings |
Types of Copper & Copper Alloy Forged fittings
---
Copper Socket Weld Elbow
Copper Socket weld Tee
ASTM B62 Copper Socket weld Tee
Copper Socketweld Cross
Copper Carpenter Forged Socket weld Union
Copper Socket weld Bushing
Copper Forged Socket weld Cap
Copper Socket weld 90 Deg Elbow
Cupro Nickel 45 Socketweld Elbow
Cupro Nickel Socket weld Tee
Cupro Nickel Socket weld Cross
Cupro Nickel Socket weld Cap
Cupro Nickel Socket weld 90 Deg Elbow
Cu-Ni Socket weld 90 Deg Elbow
Copper UNS C12200 Socketweld Tee
Copper Socket weld Coupling
ASTM B62 Copper Socket weld Coupling
UNS C12200 Forged Socket weld Cross
UNS C12200 Socketweld Union
UNS C12200 Socket Weld Plug
UNS C12200 Forged Bushing
Copper Forged Socketweld Cap
Copper UNS C12200 Socketweld Cap
Cu-Ni 90 Degree Forged Socket weld Elbow
Cu-Ni Forged Socketweld Tee
Cupro Nickel Socket weld Union
Cu-Ni Forged Socket weld Cap
Copper Nickel Forged Socket weld 90 Deg Elbow
Export Destination of Copper & Copper Alloy Forged fittings
---
Exporting Copper & Copper Alloy Forged fittings to Singapore, Malaysia, Hongkong, Thailand, Indonesia, Taiwan. Other countires includesAfghanistan, Albania, Andorra, Austria, Bahrain, Bangladesh, Bhutan, Brunei, Belarus, Belgium, Bulgaria, Cambodia, China, Cyprus, Croatia, Czech Republic, Denmark, Estonia, Egypt, Finland, France, Germany, Greece, Georgia, Hungary, Iceland, Ireland, Italy,Iran, Iraq, Israel, Japan, Jordan, Kazakhstan, Kuwait, Kyrgyzstan, Lebanon, Latvia, Latin America, Liechtenstein, Lithuania, Luxembourg, Malta, Moldova, Monaco, Maldives, Mongolia, Myanmar (Burma), Nepal, North Korea, Netherlands, Norway, Oman, Poland, Portugal, Pakistan, Palestine, Philippines, Qatar, Russia, Romania, Russia, San Marino, Serbia and Montenegro, Slovakia, Slovenia, Spain, Sweden, Switzerland, Saudi Arabia,South Korea, South Africa, Sri Lanka, Syria,Tanzania, Tajikistan, Thailand, Turkey, Turkmenistan, Ukraine, United Kingdom, United Arab Emirates (UAE), Uzbekistan, Vietnam, Yemen.
Supplying Copper & Copper Alloy Forged fittings to Following Domestic Cities
---
Mumbai, Delhi, Kolkata, Chennai, Bengaluru, Hyderabad, Ahmadabad, Pune, Surat, Jaipur, Kanpur, Lucknow, Nagpur, Ghaziabad, Indore, Coimbatore, Kochi, Patna, Kozhikode, Bhopal, Thrissur, Vadodara, Agra, Malappuram, Thiruvananthapuram, Kannur, Ludhiana, Nashik, Vijayawada, Madurai, Varanasi, Meerut, Faridabad, Rajkot, Jamshedpur, Srinagar, Jabalpur, Asansol, Vasai Virar City, Allahabad, Dhanbad, Aurangabad, Amritsar, Jodhpur, Ranchi, Raipur, Kollam, Gwalior, Durg-Bhilainagar, Chandigarh, Tiruchirappalli, Kota, etc.
Industries where we supply Copper & Copper Alloy Forged fittings
---
Chemicals, Petrochemicals, Oil & Natural Gas Organization, Fats, Fertilizers, Sugar Mills & Distilleries, Cement Industries, Ship Builders, Paper Industries, Pumps, Automation, Paints, Steel Industries, etc.